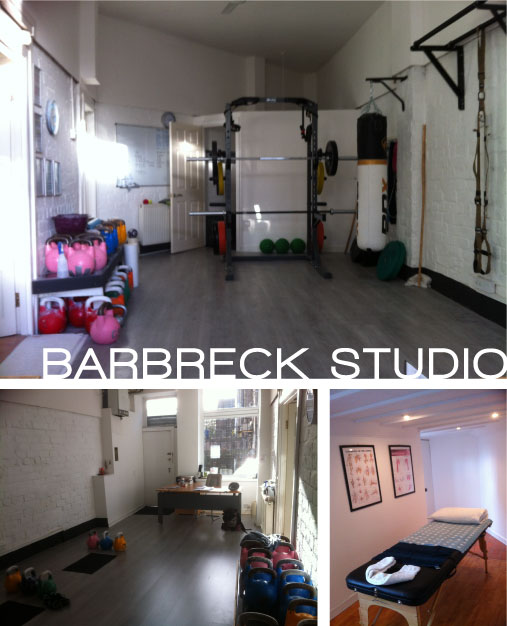 Barbreck Studio: Bespoke Fitness & Sports Therapy Studio in the heart of Glasgow's Southside.
Barbreck Studio is a small health & fitness space located just off Pollokshields Road (less then 1min from Queens Park Station). Providing services that include small group fitness, personal training, sports massage, rehabilitation training, kettlebell & strength training.
Focusing on simple but effective training there are no fancy machines at Barbreck, instead you'll find professional quality kettlebells, barbells, weight plates, boxing equipment and bodyweight training equipment including pull up rig and gymnastic rings.
Alongside the studio is our sports therapy treatment room for sports massage, injury assesment/rehab, health & fitness assessments, dry needling and rehabilitation services.
For more information on location and to get in touch: Contact & Map
What does Barbreck Studio offer?
Why is Barbreck Studio right for you?
What can Barbreck Studio do for you?
Individualised Training
Numbers in our classes are limited, and all are pre-planned with you in mind.
Personalised Training
We make sure our classes are tailored to meet your abilities, needs and fitness levels. This doesn't mean we give you an easy ride - expect to be challenged, it's the way to progress!
Dynamic Training Envirnment
Supportive and friendly, at Barbreck we like to think we're more of a community rather than simply a gym.
Supporting each other to our goals
At Barbreck we pride ourselves on promoting and developing a non-competitive training environment where everyone supports each other and welcomes new people. We like to think we're a large team helping each other progress!
Technical Instruction
Learn new skills and improve your technique to maximise your results
We can help you
Our experienced and specialised instructors means you get instruction at your required level throughout the class. Wether it's your first class or you're a seasoned athlete, we work with all.
Athletic Conditioning
Training simply for yourself or with a specific event or even competition in mind, get in touch.
We can help you
Our instructors specialise in all round and specific athletic conditioning so if you're training for a specific event, for sporting performance or to improve your technical ability then contact us and ask us how we can help you.
Variety
several class types offered. Choose your favourite style of training, or mix and match.
Challenge yourself
HIIT & cardio, strength training, skills training, endurance & power. Our classes cover all the bases so you can train in a way that suits you, we can help you decide how to best get results.
Events
Workshops, special training and test days, training camps, trips, competitions and social events.
Workshops & Outings
Whether you want to perfect a particular skill, learn new ones or test your existing we run regular training events and workshops. Also the community feel of Barbreck studio means we like to arrange social events and trips too!